Axfood to co-found the world's largest plastic recycling facility
Swedish Plastic Recycling is currently building the world's largest and most modern facility for plastic recycling – Site Zero. When the facility becomes operational in 2023, it will handle about 200,000 tonnes of plastic packaging per year. Axfood is one of Site Zero's co-founders through the Swedish Food Retailers Federation, an organisation for grocery retailers in Sweden.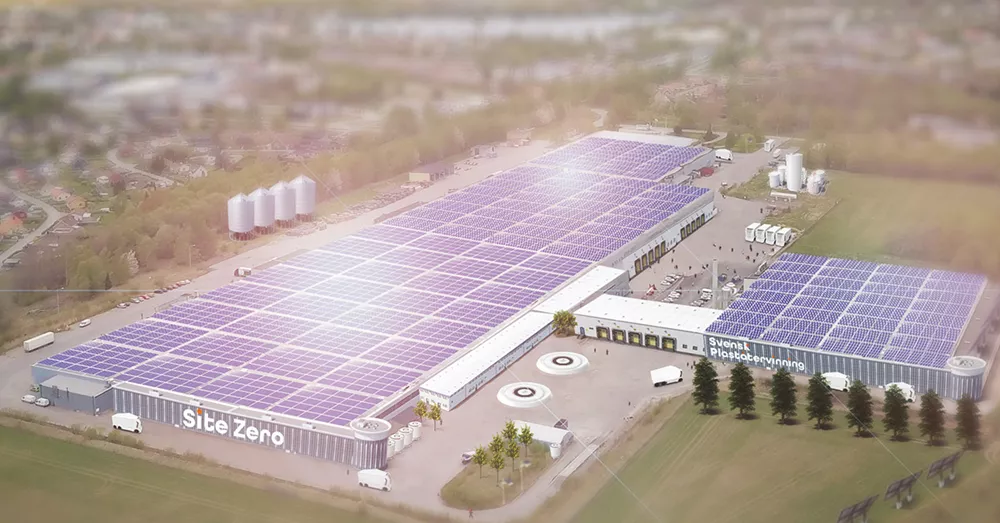 Conceptual image of Site Zero. Photo: Swedish Plastic Recycling
As the world's largest and most modern facility for plastic recycling, Site Zero will create the prerequisites to recycle all plastic packaging from Swedish households and create a circular plastic flow with no negative climate impact.
"This is a giant leap in the right direction for the circular economy. Since we will require plastic for packaging for a long time to come, investments like this that help to close the loop of the circular economy are crucial," says Axfood's Head of Sustainability, Åsa Domeij.
New technology used to recycle more plastic packaging
Much of the plastic that is collected today is incinerated because it is too difficult or expensive to recycle. The goal is for the new facility to handle essentially all plastic that is collected by sorting plastic into 12 different types. A new technology will even enable packaging consisting of compound plastics to be separated and recycled chemically or to become new composite products.
"When all plastic can be recycled in this way, it will also be important to help consumers collect and recycle more plastic packaging. By doing so, we will make plastic more circular," says Karin Grönskog, Packaging Developer at Axfood's purchasing and logistics company Dagab.
Climate neutrality through solar panels
The facility will comprise about 60,000 square metres, four times the size of the space currently occupied at the site. In total, the facility will have the capacity to sort about 1,000 packages per second. The recycling of plastic will also be entirely climate neutral through the installation of 85,000 square metres of solar panels on the building's roof.
Swedish Plastic Recycling is owned jointly by the Swedish Plastics Industry's Information Council (PIL), the Swedish Trade Federation and the Swedish Food Retailers Federation, of which Axfood is a member.