Trainee programmes? Sure – we have them, several in fact – for you who have just graduated from high school, gotten a degree at a college or university, or are working in any of our store chains.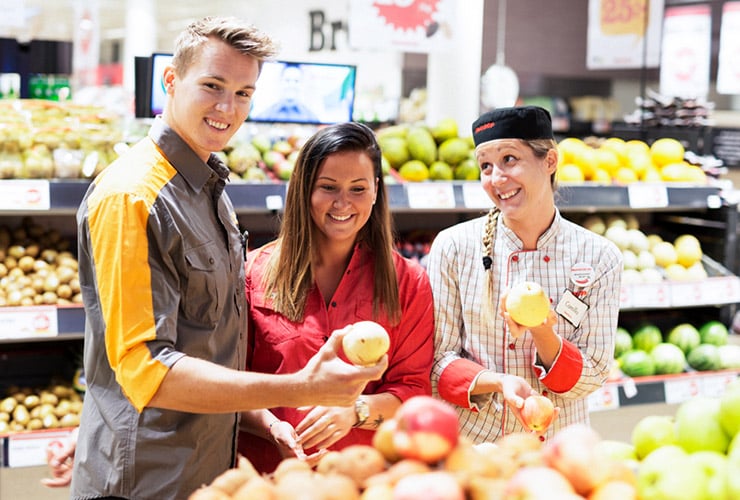 Growing and developing is important, both for you as an individual and for us as a company. We encourage new thinking that can make a difference both in our companies and in society. That's why we have trainee programmes. Being a trainee with us means that you get a chance to work with something that affects us all – food and people.
Young at Axfood – for you as a high school graduate
Young at Axfood ("Ung i Axfood") is our trainee programme for young people in which we offer vocational training employment, which can help you start a future with Axfood. By participating in this programme, and by showing you are eager, you will have a good opportunity to develop in a large Group with a number of store chains and many departments. Read more about Young at Axfood
Group trainee programme – for you have graduated from a college or university
Certain years we offer a trainee programme for prospects who have studied economics for engineering at a college or university, preferably in logistics, IT, marketing or statistics.
The programme is needs-steered and one year long. This means that starting on your first day with us you will know what you will be working with when your trainee programme has been completed. You can then spend the entire year familiarizing yourself with the Group, learning how to develop our business, our digital solutions, purchasing of our assortment, and how we work with our private label products. And why this is all important from a sustainability and profitability perspective.
In 2017 the Axfood family accepted seven committed and driven trainees. We have not yet set any date for acceptance for future trainee programmes.
Store manager trainee programme – for you as a store employee
The store is our stage, and if you are already working for us you have an opportunity to be a store manager trainee. The aim is to give potential leaders in stores an opportunity for custom-tailored training for a future leadership role. It is a tough and exciting selection process that is conducted in several steps. Every year 12 employees from Snabbgross, Hemköp and Willys are given the opportunity to participate in the programme. The store manager trainee programme lasts seven months.
To date, nearly 150 employees have completed the programme. Most of them have leadership roles today.