Axfood's strategy for sustainable development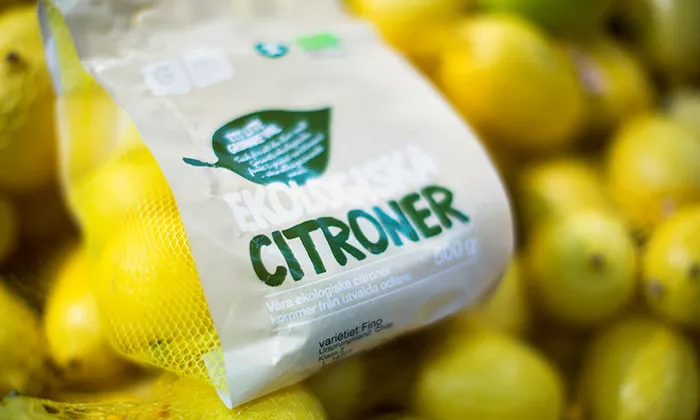 Axfood's strategy for sustainable development
Sustainability work plays an important role in Axfood's business strategy. Our goal is to be the best in the industry at sustainability, and we have ambitious goals that are moving us in the right direction.
Sustainable development is part of our business strategy. We work to drive the industry towards being more sustainable with the goal of being best in the industry in this area and to have the reputation as such.
Care for people, animals and the environment has long been an essential driver of our success. Our approach is long-term and ambitious, and our goals are high. That's how is has to be. The challenges in sustainable food consumption and production are many.
At the forefront in reducing our carbon footprint
Reducing the carbon footprint of our operations is a central part of Axfood's strategy for sustainable development. The goal is to have as little carbon footprint as possible and to reach net zero emissions from our own operations by 2030 at the latest. The Group strives to work actively with proven measures and to be a forerunner at testing new technical solutions in its own operations. The most relevant environmental aspects are energy consumption, transports and material flows. Environmental work is conducted systematically and contributes to continuous improvements. Our greatest challenges in this respect are our transports and refrigerants.
To increase material recycling, all stores, warehouses and offices sort many different fractions. All warehouses and Group-owned stores work extensively with waste sorting and enhance their profitability by selling waste fractions for material recycling.
Good control of the supply chain
Our social responsibility is partly a matter of promoting good conditions for the people who produce or in some other way work with the products that the Group sells as well as performing controls to ensure that suppliers meet Axfood's requirements for care for people, animals and the environment. We set high standards for our suppliers and perform extensive controls in countries with high sustainability risks. In cooperation with the Swedish edtech company QuizRR we are also working to increase knowledge among employees of our suppliers in Asia and informing them about their rights in the workplace.
Axfood's Code of Conduct is harmonized with BSCI's (the Business Social Compliance Initiative's) code of conduct. At Axfood we are convinced that together with our suppliers we can contribute to improved working conditions and environmental responsibility and are eager to collaborate with our suppliers in this work.
Guidelines for Axfood's assortment summarises the demands that govern our operating activities and ensure that they live up to the Group's vision of offering good and sustainable food.
Active and socially responsible actor
Together with non-profit organizations and other business actors Axfood is working long-term with issues related to the environment, health, victims of exploitation and food. As a co-founder of the Haga Initiative we are working for reduced carbon emissions by industry, highlighting the climate change issue and influencing politicians. Through our membership in the retail trade organization Svensk Dagligvaruhandel we advocate for issues that are pertinent for the entire food retail industry, such as standards and guidelines on how to implement EU regulations in Sweden. We are also a participant in the Hållbar Livsmedelskedja ("Sustainable Food Chain") alliance and have a formal cooperation with WWF to strengthen our work for more sustainable seafood counters in our stores. We are also engaged in an ongoing dialogue with various stakeholder organizations on sustainability issues, including the Swedish Society for Nature Conservation (SSNC), Greenpeace, Fair Trade Center, the Swedish Consumers Association, Animal Welfare Sweden and Animal Rights Sweden.