Career paths within the Axfood Group
Career paths within the Axfood Group
At Axfood the store is the stage, but a great deal of work is also conducted behind the curtain. To be able to offer what our customers want, we have built up a strong organization with an efficient work approach in which everything is tied together – warehouses, stores and offices.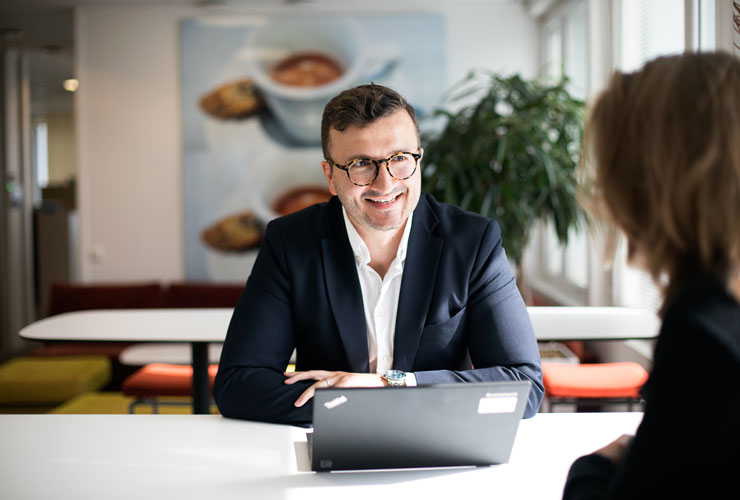 The Axfood Group is a large workplace with many areas in which you can make a difference. We have many fields of work in which your competence can be put to use.
Business development
In this area we work to improve the quality of existing or new business areas. For example, you can work with new store establishment, business analysis or digital business, but also with customer satisfaction, increasing integration and collaboration. The unit is responsible for generating growth and profitability through development and monitoring of our business.
Stores
As an associate in any of our store chains you are Axfood's face to the customer and our primary ambassador. With focus on customer service, quality and sales you can work with ensuring that our shelves are well-stocked and inviting, help customers make good purchasing decisions, follow up store operations and participate in your store's development.
Accounting and finance
In accounting and finance we work with developing and implementing Axfood's economic plans and strategies. In this area you can work with accounting, finance, and business control, among other things.
Axfood SSC (Shared Service Center) in Jönköping serves as the Axfood Group's accounting and payroll department, and provides support for accounting and human resources. Axfood SSC distinguishes itself by producing timely financial and HR information through efficient work processes, and competent and committed employees.
Establishment and premises
In this unit we work with developing and establishing the right premises at the right locations throughout Sweden. We re-open and newly establish a dozen or so stores every year. Here you can work as a project leader, store developer or technical specialist in refrigeration and energy matters.
"Did you know that Axfood was first in Sweden to implement a cloud-based HR system?"
Human Resources
In HR we work both business-oriented and strategically will all matters concerning our employees and their development. HR activities are conducted both centrally at Axfood and locally out in the companies. At the central level HR specialists work with training, manager and employee succession, negotiations and contracts, work environment and health issues, pensions, insurance and travel, and our HR system. In our department you can work on developing our business by providing the right conditions for our managers and employees to achieve their full potential.
IT
Axfood IT is responsible for development and operation of IT systems within the Axfood Group. We have one of the industry's largest IT departments, and for us IT is a key part of the entire business. Here you can work with everything from our business system, IT architecture and logistics solutions to e-commerce, cloud services and development of applications.
"Did you know that Axfood IT developed the industry's checkout system using touch screen technology?"
Communication
In the Communication department we work with communicating with various target groups – both internal and external. You can work with strategic communication planning, Axfood's brand, social media, politician and industry contacts, and investor relations, among other things.
Logistics
In Logistics we work with enhancing our stores' sales and profitability through effective, environment-friendly and customer-adapted logistics solutions. Our assignment is to make sure that stores receive the right products in the right way and at the right time. All of us working in logistics make a vital contribution: if the right parcel is picked, our customers will find fresh products on store shelves. Here you can work in warehousing, transport and Autoorder (Axfood's automated restocking system), or as a project leader in business development.
"Did you know that our warehouses have their own gyms so that employees can exercise during work hours?"
Marketing
In this unit we work with marketing our products and chains in various media. You can work, for example, with market communication, customer programmes and branding.
Assortment & purchasing
The assortment & purchasing department enables us to offer good and sustainable food at competitive prices in our stores. You can work directly with purchasing, with Axfood's private label products, and with assortment development, quality assurance and package development, among other things. This department also includes Axfood's quality assurance unit, which is responsible for ensuring that our products are safe and taste or work as expected – or better!
Support
The Support department works to strengthen and monitor various processes and routines with the aim of providing smart office solutions and maximizing efficiency in the operations. You can work as a support manager, receptionist, or with customer support.
Security and safety
This unit is dedicated to security and safety work in stores as well as in offices, logistics and IT. We also work with ensuring good food hygiene. You can work with responsibility for security or as a food safety specialist.
Sales
Here we work with sales of products or services at Willys, Hemköp or Axfood Närlivs. You can work with campaigns, e-commerce and price analyses, among other things.
Business development
In business development we work to continuously improve our operations through our work approach, methods and processes. You can work as a project leader or business developer, among other things.
"Did you know that we are installing solar panel systems on more of our store rooftops?"
Looking for a job?
Do you share our passion for food and people? Good! As an Axfood employee you play an important role in enabling everyone to eat good and sustainable food. Here you'll find the vacancies that are currently advertised (in Swedish).