Development opportunities
Development opportunities
We love employees who take the initiative and want to develop. With us you will find a multitude of career opportunities and paths for development. You can take on new areas of responsibility in your existing role, participate in various projects, or train others.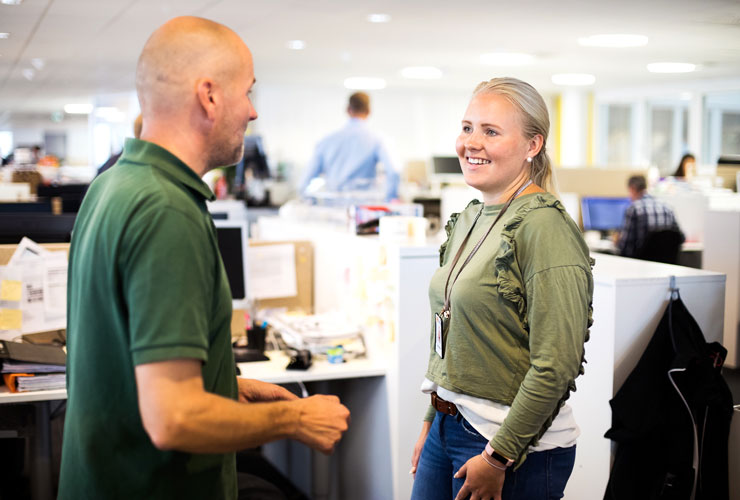 The Axfood Group is a large employer and offers you a wealth of opportunities for development, on both the personal and professional planes. We want our employees to grow and develop.
Pursue your own training within the Group
We want all our employees to have the opportunity for continuous learning and further development. Axfood Academy, our training centre, ensures a business-focused offering of both e-learning and instructor-led courses so that everyone can build upon their competence or develop in their role as a leader. Our employees have the opportunity to serve as internal instructors at Axfood Academy and share their knowledge and experience with their colleagues.
"Within the Axfood Group an e-learning course is conducted every fifteen minutes of every day, 365 days a year."
Pursue an internal career
We encourage our employees to try out different positions and roles in our various companies. Perhaps you work in a store today but want to pursue a career in IT or purchasing? Take advantage of the opportunity to apply for a position in customer support at Axfood IT or to work with master data at Dagab! There is no limit – it is your interest and potential to develop that are the driving force.
If it's a leadership role you are out after, we offer many opportunities in various areas. We have a firmly grounded philosophy about leadership which aims to support and drive both your own and our business's development. We focus on supporting and developing effective, values-steered leadership at Axfood so that all of our employees can perform to their utmost and enjoy working for us.
Looking for a job?
Here you'll find the vacancies that are currently advertised (in Swedish).