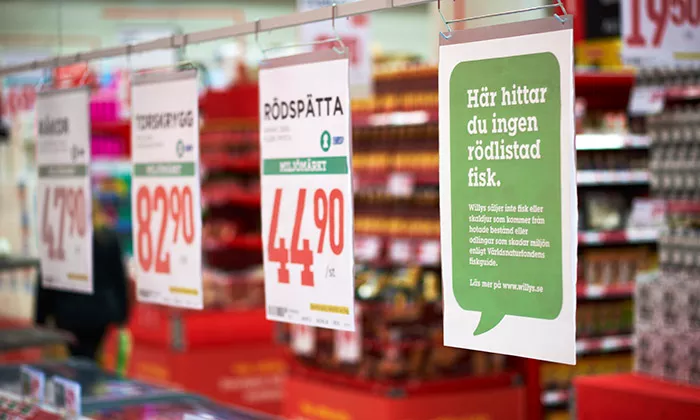 Seven reasons to invest in Axfood
A solid company with strong brands, historically favourable returns, and profitable growth. Below, we highlight seven reasons to invest in Axfood.
1. More people need to eat – Sweden's population is growing
The food retail market is relatively insensitive to economic swings and is driven largely by population growth and inflation. Sweden's population is one of the fastest growing in Europe and is projected to reach more than 11 million by 2030 and 13 million by 2070. Food price inflation in 2019 was 2.8% according to preliminary data from Statistics Sweden.
2. Our strategy is addressing the market's drivers and generating profitable growth
We have a clear strategy for addressing the most prevalent trends in the market through concrete priorities in our six focus areas – the customer meeting, the customer offering, expansion, the supply chain, work approach and our people. Our goal is to grow more than the market with a long-term operating margin of at least 4%.
3. House of well-positioned brands
Axfood is a house of brands with strong positions in their respective segments. Distinctive food concepts are a way of diversifying risk. Hemköp is an admired brand, and Willys is the leader in Sweden's discount segment. Through Snabbgross and Urban Deli, Axfood also has inroads into the fast-growing café and restaurant segment. And with Apohem we have also secured a position in the online pharmacy market.
4. Sustainable economies of scale in purchasing and logistics
With Dagab at the heart of the underlying operations – purchasing and logistics – economies of scale and cost efficiency are achieved. With Dagab's position we can also set high demands for price, quality and sustainable solutions. Major emphasis is put on nurturing good relationships with suppliers and increasing control and responsibility across the entire supply chain.
5. Channels and formats that simplify and attract more customers
Our physical stores and meeting places are the core of our business. At the same time, our strong growth online shows that customers appreciate our various e-commerce concepts. With a focused expansion plan, focus on developing the customer meeting regardless of channel, and development of sustainable and easy meal solutions, we are accommodating evolving customer behaviours that are emerging from trends in the food retail market.
6. Strong financial position and stable cash flow
Axfood has a solid balance sheet, and our business model generates a stable cash flow. During the last five years, the dividend has on average amounted to 90% of profit after tax. Axfood's dividend policy sets the goal that the shareholder dividend shall be at least 50% of profit after tax. Starting with the 2019 financial year, the dividend is to be split into two payment occasions. Historically, after payment of the dividend, Axfood has built up a net debt receivable during the year. Adoption of IFRS 16 has resulted in an accounting shift from a net receivable to a net debt position.
7. Positive force in society
Axfood has long strived to be a positive force in society. This entails offering good and sustainable food, being an inclusive business and conducting operations in a sustainable way – especially when it comes to our climate impact. Through private labels Axfood is launching innovative products and leading the charge for sustainability and health. We are also engaged in a continuous dialogue with decisionmakers, politicians and authorities on how they can contribute to a positive direction for our industry.
Dividend payout, %
Net receivable, SEK m