Axfood in brief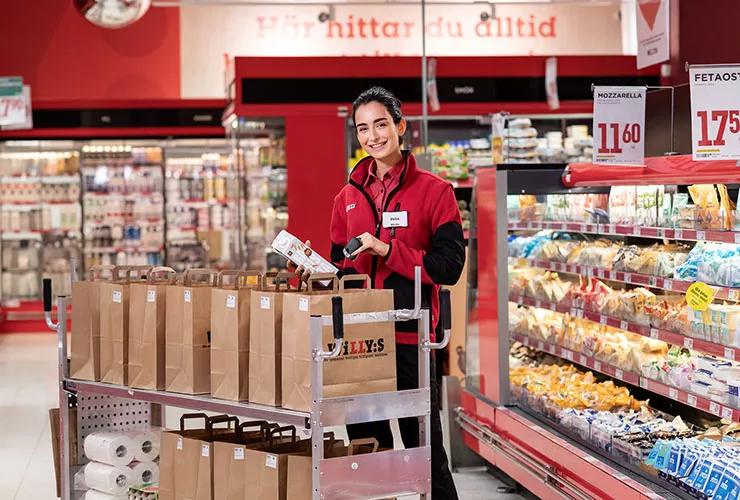 Axfood in brief
Axfood is a leading food retail group in Sweden and the second largest player in the Swedish food retail market with a market share of approximately 21%. We are a family of distinctive food concepts that rest upon close collaboration. Our vision is to be the leader in affordable, good and sustainable food.
A unique food retail group in the Swedish market
Axfood is a leading food retail group in Sweden, unique in its kind in the Swedish market. Our house of brands includes the Willys and Hemköp grocery store chains as well as Tempo, Handlar'n and Matöppet. B2B sales are conducted through Snabbgross, and our support company Dagab is responsible for the Group's product development, purchasing and logistics. The Axfood house of brands also includes Middagsfrid and Urban Deli, and partly owned Apohem, Eurocash, City Gross and Mathem. The principal owner is Axel Johnson AB, with 50.1% of the shares.
More than 13,000 employees
We would not be where we are today without all our employees. Maintaining a high tempo in a change process that involves more than 13,000 employees throughout Sweden requires a dynamic and collaborative organization. We know that a diversity of personalities, experiences and backgrounds is conducive to involvement and leads to more and better new ideas. When a diversity of thinking is combined with collaboration within a group, when we can use each others' strengths, our entrepreneurship and wealth of ideas to fine-tune our food concepts and improve the customer meeting, then we can achieve amazing results.
Affordable, good and sustainable food
In a time when more and more customers are striving to incorporate sustainability into their lifestyles and where awareness is growing about the impact of food on our health and the environment, we see it as our mission to inspire and make it easy for customers to make more engaged and conscious choices. By taking responsibility for the food offering today we can make a difference for future generations. It is a responsibility we want to take to be the leader in affordable, good and sustainable food for everyone.
Key data 2022
Consolidated net sales
SEK 73,474 m (57,891)
Operating profit
SEK 3,101 m (2,704)
Operating margin
4.2% (4.7%)
Average number of employees
12 772
Group-owned stores/franchise stores
325/268
Target year to achieve net-zero emissions
2030