Investors
Financial targets
Axfood's strategic target supports the Group's strategy to achieve profitable growth, drive work with environmental issues, and to have committed employees who reflect the diversity of the society they work in.
Group operating margin
Axfood will grow faster than the market (new target as from 2018).
During 2018 Axfood's store sales (including Hemköp franchises) increased by 5.3%, while growth for the market was 3.0% in current prices, according to HUI/the Swedish Food Retailers Federation. Axfood thereby increased its market share.

Operating margin
Long-term operating margin of at least 4%.
The long-term target was reached in 2018, with an operating margin of 4.2%. Profitability was favourably affected by like-for-like sales performance and the sales mix.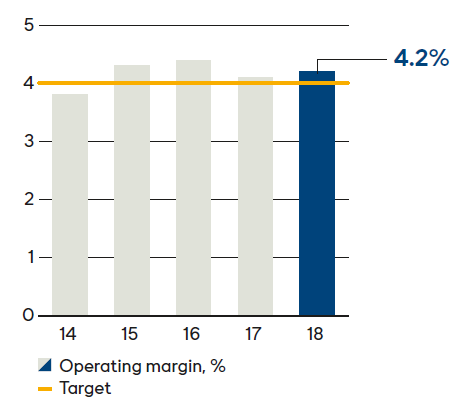 Equity ratio
In 2018 the target was an equity ratio of at least 25% during all quarters.
As a consequence of changed accounting policies (transition to IFRS 16 Leases), in 2019 the target is an equity ratio of at least 20% by year-end.
The equity ratio as per 31 December 2018 was 37%, and the target was achieved during every quarter.