About Axfood
Goals and strategy
Axfood aspires to be Sweden's best food retail company and contribute to better everyday life in which everyone can share their passion for good and sustainable food that gives them value for their money.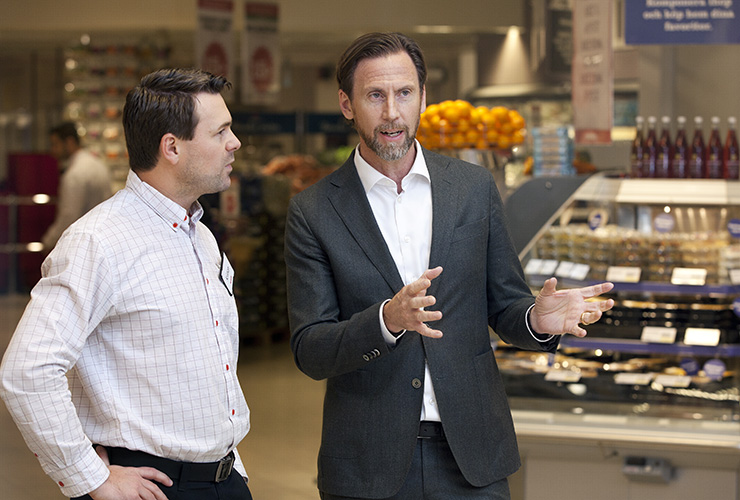 Axfood's strategy for achieving its vision is above all to focus on profitable growth and innovation. More specifically, Axfood's strategy is based on achieving greater customer benefit, efficiency at every level, enterprising and knowledgeable employees and sustainable solutions. The Group's strong brands are unified by and driven by this strategy. Everything Axfood does is rooted in the Group's core values: The store is the stage, We dare, We are aware, You are important, and Together we are strong.
Increased customer benefit
Axfood strives to offer the best shopping experience for each of its formats' target groups. We do this through an unrelenting customer focus and by adapting to customers' demands. We strive to:
Offer appealing stores with a wide assortment

Increase innovativeness in key product categories

Develop customer programmes and be a leader in the digital customer interface

Improve local and regional customer offerings

Make it easy for customers to make responsible choices
Profitable growth
Axfood is working to grow its market share. Through growth we will consolidate our number two position in the Swedish food retail market. Establishment of new stores – both Group- and retailer-owned – is key prerequisite for growth. We will:
Drive organic growth

Maintain an ambitious pace of establishment

Grow in digital business

Develop our service offering
Efficiency at every level
Axfood's goal is to be the most profitable company in the Swedish food retail market. We will achieve this through efficiency and strict cost control at every level. Axfood strives to have an attractive assortment and is steadily developing its private label products as a complement to name brand products. Through coordinated purchasing Axfood has a strong negotiating position with focus on low purchasing prices. We will:
Improve the effectiveness of the assortment

Increase efficiency in logistics and at stores

Maintain strict cost control
Enterprising and knowledgeable employees
Axfood strives to have enterprising and knowledgeable employees and retailers who collaborate in a cost-effective organization. Our employees reflect the diversity of the Group's customers, which ensures a favourable mix of competencies and perspectives. We strive to:
Attract, retain and develop employees

Foster values-based leadership, employeeship and a distinctive Axfood culture

Be a customer-centric organization with a strong entrepreneurial spirit

Ensure purposeful, user-friendly, cost-effective and secure HR processes
Sustainable solutions
Axfood aspires to be a good company and a positive force in society. We are a driver of sustainability in the industry. Our goal is to be the best in the industry at sustainability and to have the reputation as such. We will:
Be at the forefront at reducing our carbon footprint

Ensure good control of the supply chain

Be an active and responsible societal actor
Axfood's targets
Axfood's strategic targets support its strategy with focus on profitable growth, environmental adaptation, and a committed and diverse work force.
Financial targets
Long-term operating margin of 4%.
The equity ratio shall be at least 25% during all quarters.
Axfood's dividend policy sets the goal that the shareholder dividend shall be at least 50% of profit after tax. The dividend will be paid out on two occasions.
Environmental targets
Axfood will be climate-neutral by 2020. The carbon footprint from own operations will decrease by 75% by 2020 (base year: 2009).
Axfood will reduce its electricity consumption by 15% per square metre by year-end 2020 (base year: 2015).
Organic products as a share of total net sales will amount to 10% by 2020.
Employee targets
Axfood will have an even gender balance in management positions over the long-term, i.e., men and women will be represented within a range of 40%–60%.
By 2020 at the latest, at least 20% of Axfood's managers will have an international background.
The work attendance rate among Axfood's employees shall be at least 95%.