Annika using IT to make Axfood more profitable
Annika Zettermarck wants to work for a company that influences people's daily lives and acts in accordance with its values. As head of Axfood's IT development, she is involved in most of what happens within the Group and feels she has found a perfect fit career-wise.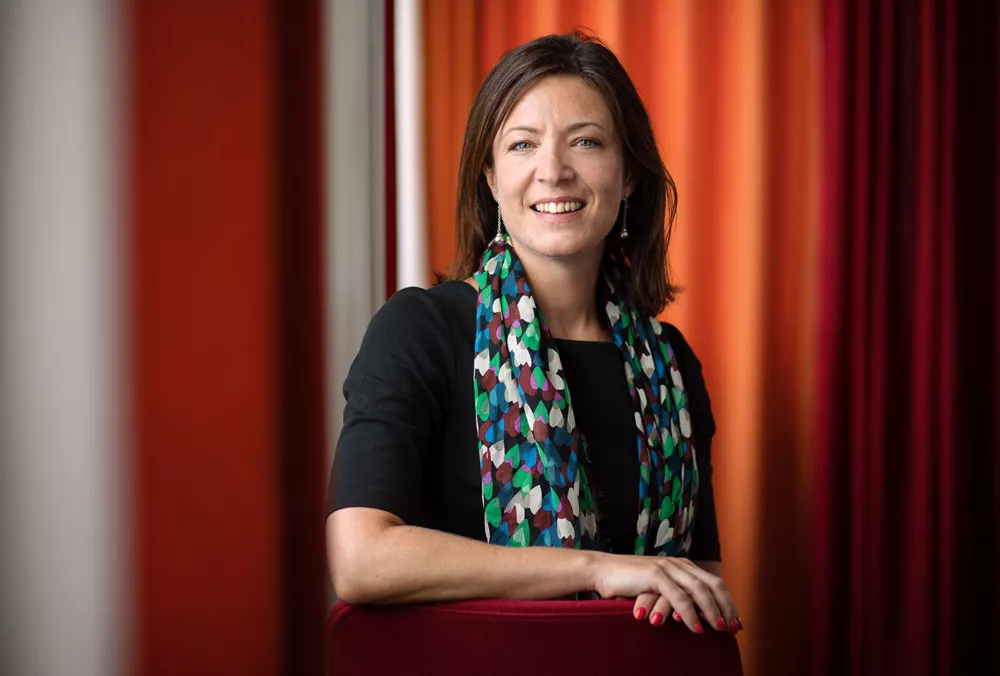 You worked with IT in the banking world for 16 years before you took the step to Axfood. What got you to change?
– I feel that you shouldn't move from something but rather toward something. I had long been looking for a job in which the IT department has a major influence in the organization and where the company works in an area that plays a role in people's lives.
What is your view of Axfood as an employer?
– One strength of Axfood is its values. They are not just printed words in an annual report – they really do apply. Several years ago I listened to the podcast "Värvet", featuring Antonia Ax:son Johnson. She spoke about "the good company" – one that is a positive force in society and at the same time makes money. Axfood aspires to create something better and is also a profitable company. These two are not opposites. Since I began working here I constantly see proof that it's true. Initiatives like solar panels on store rooftops, Matmissionen, new organic products and Mat 2030 literally pop up everywhere. It feels good to work here. Making a positive contribution to societal development through my job makes me feel proud.
How is it to work in Axfood's IT department?
– We serve in a supporting role and as an enabler. IT is everywhere – from product flows to payments, store operations and marketing. We are responsible for all development and application management. This entails that I serve on steering committees, support employees, improve ways of working and handle recruitment. Axfood's IT department is big enough that it can conduct extensive projects, and small enough that every individual employee can have an influence and contribute ideas. We are around 200 people, so there is strength in our size. You can see the whole picture, and decision-making channels are short. We dare to try and test.
A lot has happened in a short period of time. The cash registers have been replaced, Autoorder has been implemented, touchscreen displays have been installed in checkout lanes, self-scanning has been rolled out and e-commerce is growing. In parallel with this, the entire business system has been replaced. What does the future hold?
– The implementation of the SAP business system is proof of the stamina and long-term vision that exists in the organization. After several years of work we now have incredibly good conditions going forward. We have competent employees, an effective organization and good infrastructure in place – a great foundation. Our job now is to take advantage of this and set the right priorities. The focus going forward is on our customers and on developing the digital customer interface through e-commerce and our customer programmes, for example.
What's the best part about your job?
–When I first came to Axfood I sat down for one-to-one talks with all of the hundred or so employees in IT Development. It was very interesting. Among other things, I asked the same question to everyone: "Why did you come here this morning?" When I compiled the answers, one word stuck out: colleagues. It is a considerate and good atmosphere here. We help each other. I would recommend everyone to work here.
How does your department contribute to good and sustainable food?
– Everyone should have the right to good and sustainable food! We are making it more accessible for more people. Take e-commerce, for example. Many use it to save time, but it is also a great help for people who have a hard time physically getting to a store. By automating things that were previously done manually and optimizing our warehousing so that the right products are purchased at the right time, we are helping to reduce food waste. We are making the company more cost-effective, which enables us to offer better prices. We make daily life better both for Axfood's operations and for the customers.
Background:
Annika joined Axfood in 2016. Prior to this she spent 16 years at Swedbank, as head of Payments & Deposits, among other positions.