Axfood's work areas for sustainable development
Achieving our ambition to be the industry leader at sustainability requires proactive work in our own operations as well as inspiration and guidance for consumers and industry colleagues. At Axfood our sustainability work is channelled through six work areas.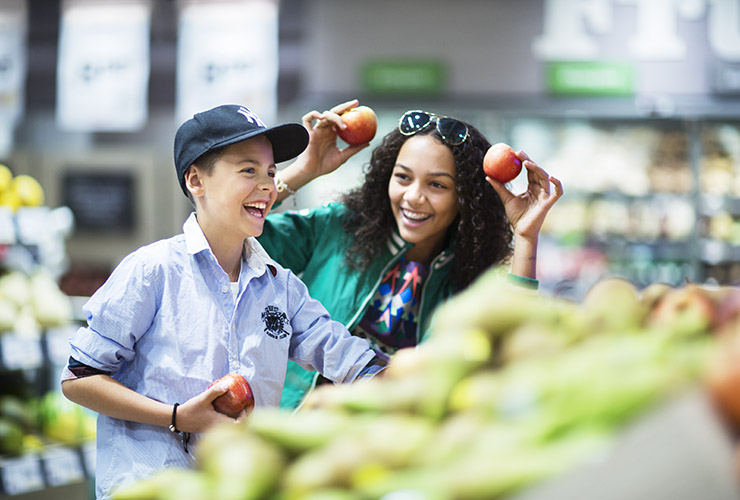 Sustainable products. Axfood shall inspire customers to make good and sustainable choices when shopping for groceries. By thinking along new paths and offering food that has been selected with care for the climate, people and animals, we make it possible for more consumers to access good products. We also drive important issues and are thereby raising the standards in the entire industry. Axfood's private label products are the clearest proof of our efforts.
Climate and energy. Reducing the carbon footprint of our operations is a central part of our strategy for sustainable development. We shall work actively with proven measures and be a forerunner in testing new technical solutions. Axfood's stores today have electricity monitoring systems designed to systematically measure and monitor electricity consumption. Measures are being taken continuously to reduce energy use, and in connection with refurbishments and new construction the focus on energy efficiency is great. We aim to be climate-neutral by 2020.
Employees. Axfood shall create a work environment that promotes diversity, employee involvement and development. Employees who feel at home at Axfood, who approach their work with commitment and who take advantage of development opportunities can achieve a lot – for customers, for Axfood and for themselves.
Transports. Axfood shall reduce its carbon footprint from transports and travel – this is one of the most important measures we can do to achieve climate neutrality. We are working to increase the share of transport by rail, use renewable fuels and train drivers in eco-driving techniques. We are also reducing employee travel, such as by making greater use of digital meetings.
Responsible suppliers. Axfood puts high demands on its suppliers for sustainability, especially with respect to product safety, employee rights and work environments, and environmental protection. We work both preventively and with controls and deviations. Often this is done together with partners who have knowledge about local conditions or in collaboration with industry colleagues – all in an effort to bring about change.
Corporate social responsibility and influence. Axfood aspires to be a positive force in society. Through our operations we interact with and can influence many people and organizations on a daily basis. This gives us new insights and opportunities to contribute to positive change. We are also on the lookout for areas for innovation – in our own operations as well as in our industry.